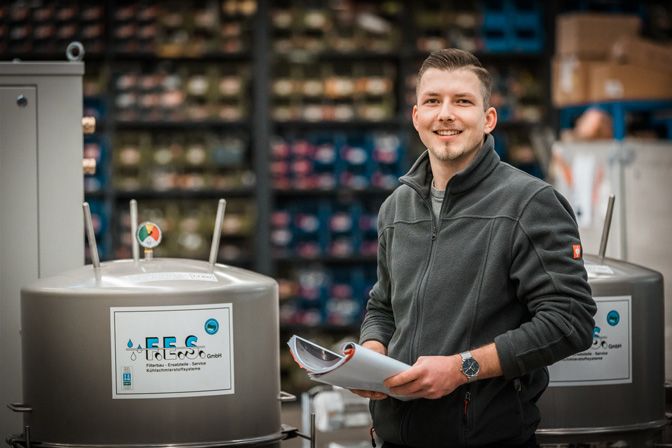 F.E.S. - Your reliable partner for filter systems

Increase the efficiency of your production through optimal cleaning of cooling and lubricants.
As a reliable partner for filter systems, we have stood for the highest quality and performance worldwide since 1993. We understand that your machines and production plants are the heart of your company and that efficiency, sustainability, and cost-effectiveness are of utmost importance to you. With our high-quality filter components and filter systems, we significantly contribute to making your production processes more efficient and sustainable.

Discover our wide range of tailor-made filter solutions that meet the highest demands in terms of efficiency, cost-effectiveness, and environmental protection.
Our experienced experts are at your side to find the optimal solution for your filter systems and components. We consider individual requirements as well as economic and ecological aspects to develop an effective and sustainable solution. We value close collaboration with our customers and prioritize transparent and understandable communication.
With our modern machinery and experienced staff, we manufacture filter systems and components according to your specifications and requirements. We always focus on the highest quality and performance to ensure smooth operation of your production plants. Our manufacturing process is based on state-of-the-art technologies and high standards to ensure the effective and sustainable use of our products.
We deliver our products directly to the customer and ensure professional installation and commissioning. We rely on an experienced and professional assembly team that quickly and reliably installs your filter systems and components. Our goal is to ensure smooth and efficient operation of your production plants, allowing you to focus on your core business.
We offer our customers individual solutions and excellent support to ensure that their filter systems function smoothly and flawlessly.
We utilize our innovative filter solutions to improve the quality and efficiency of our customers. With our value-added approach, we ensure that our products meet the highest standards.