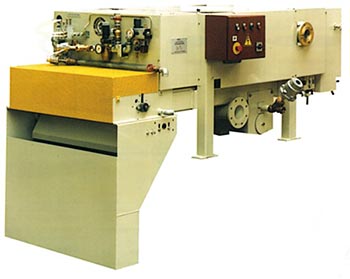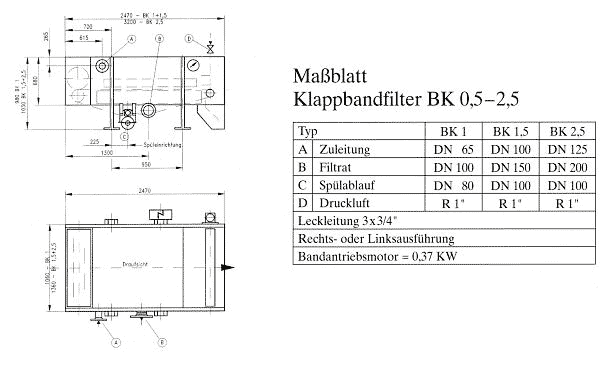 BK 0.5 – 2.5 (0.5 – 2.5 m² filter area)
Hinged belt filters, also known as folding belt filters, are used for cleaning contaminated coolant fluids in metal processing and rolling mill applications. Cleaned coolant fluids have longer service life, improve the surface quality of workpieces or rolled goods, and assist in heat dissipation at the processing or forming site.
Advantages:
High throughput capacity
No backflushing required during regeneration
Easy discharge of filter cake
Short regeneration time
Compatible with various plastic filter belts
High and low-pressure flushing system
Cost-effective   Operation: The F.E.S. hinged belt filter incorporates a circulating plastic filter belt to meet the filtration requirements without disposal issues. A filter belt cleaning device is located below the filtrate discharge chamber. The opening and closing of the chambers are controlled by two pneumatic cylinders. The self-locking toggle lever mechanism keeps the chambers closed even in the event of a loss of compressed air.


Equipment: The standard equipment of a hinged belt filter includes:
Pneumatic control system
Filter belt cleaning device
Perforated filter belt support
Circulating filter belt
Electrical control wiring in terminal box
2-component DD-quality paint finish

Application: Hinged belt filters with a filter area of 0.5 – 2.5 m² are primarily used for compact coolant systems for individual supply and as secondary filters in combination with pre-coat filters.
The separation range, with the assistance of the filter cake formed, ranges from 10 to 100 µm. The nominal filter fineness of the filter fabric used also plays a role in the quality of the initial filtrate after a filter regeneration. The basic performance of the filter is 1,500 l/min per m² of filter area.
The viscosity of the coolant, the material being processed, and the type of machining affect the throughput capacity. Therefore, the actual filter performance varies between 500 and 2,500 l/min per m² of filter area. By adding filter aids such as diatomaceous earth or cellulose, the filter can also be used as a pre-coat filter for challenging filtration tasks.
Filter types based on filter fineness and specific filter performance:
The provided throughput capacities represent the specific basic performances and serve as reference values for interested operators.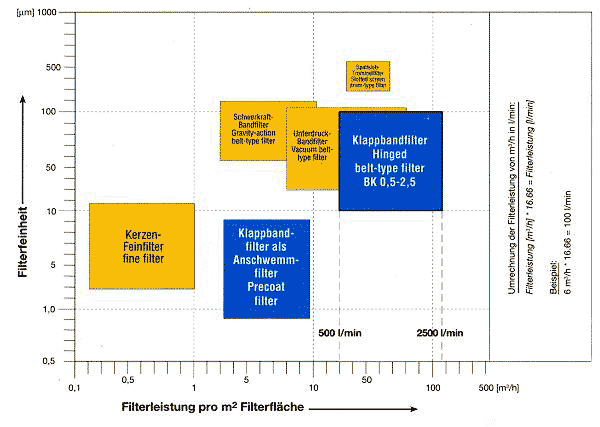 Each filter system is specifically designed and customized for the specific application. We utilize our experience, in-house laboratory tests, as well as portable pilot plants for on-site testing at your company.