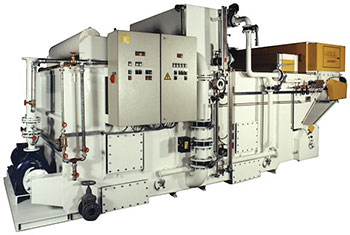 BK 0.5 – 2.5 (0.5 – 2.5 m² Filter Area)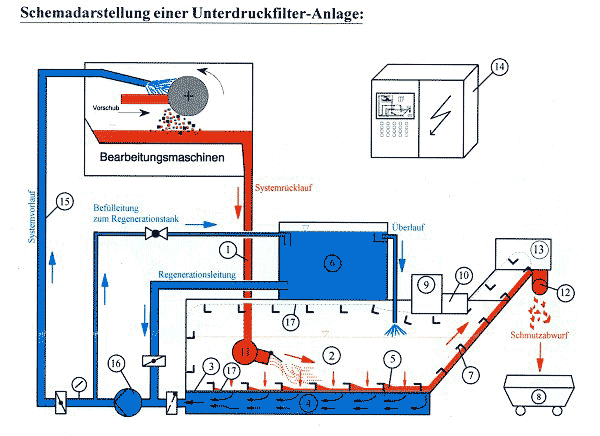 Vacuumfilters are used for the cleaning of contaminated cutting fluids in metal processing and rolling mill applications. Clean cutting fluids lead to longer tool life, improved surface quality of workpieces or rolled goods, and efficient heat dissipation at the processing or forming point.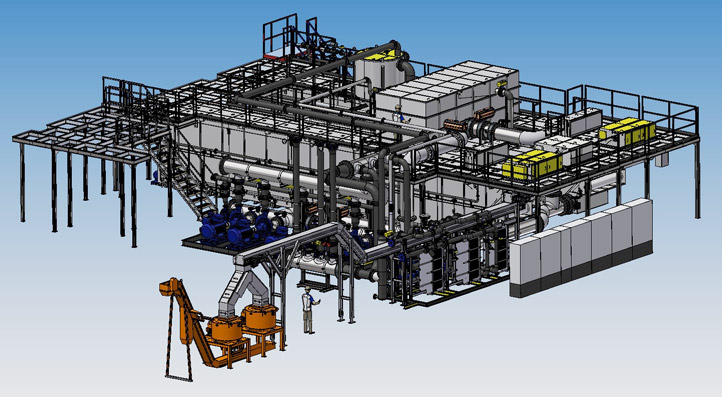 Advantages:
Compact size
Excellent filtration results
Low installation effort
Low maintenance requirements
Affordable price
Optional configuration without consumable filter fleece, with continuous filter belt, and washing device
Significantly lower consumption of filter fleece compared to gravity filter systems during challenging filtration tasks and fleece operation


Operating Principle: The contaminated cutting fluid flows through a piping system (1) and an inlet distributor (11) into the dirt chamber (2) of the underpressure filter tank. From the dirt chamber, the contaminated cutting fluid is suctioned by the filter/system pump (16) through the filter media (17) and the gap sieve (3) into the clean chamber (4). It is then pumped to the processing machines via the system supply line (15). Solid particles are retained, forming a filter cake (5) on the filter media.
As the filter cake builds up, the differential pressure in the lower chamber (4) of the underpressure filter increases. When an adjustable underpressure is exceeded, the filter regeneration is initiated. During regeneration, the machines are supplied from the regeneration tank (6) of the underpressure filter system, ensuring continuous machine operation.
During this phase, the scraper conveyor (7) is activated by the drive head (13), and the filter belt (17) is advanced a small distance. The dirt is discharged into a container (8) via a discharge screw (12), and the circulating filter belt (17) is cleaned in a washing device (10), tightened by the automatic tensioning device (9), and made available in a cleaned state for a new filtration cycle. A new filtration cycle begins, and the clean chamber (6) is refilled.
The entire operation is fully automatic and controlled by a control cabinet (14) with illuminated circuit diagram.
Equipment: The standard equipment of an underpressure filter includes:
Tank divided into dirt and clean chambers
Regeneration tank
Filter/system pumps
Continuous filter belt
Belt tensioning device
Belt washing device
Lower chamber flushing
Discharge screw
Control cabinet


Optional additional devices:
Injector suction
Pressure control station
Floating suction
Skimmer
Winding reel for fleece operation
Walkable covers
Defoaming tank for preliminary degassing
Oil mist extraction


Application: Underpressure filters are used both for supplying individual machines and supplying machine groups within centralized supply systems.


Available configurations:
Compact filters for individual machine supply:

U 0.25 K (0.25 m² filter area)
U 0.5 K (0.5 m² filter area)
U 0.75 K (0.75 m² filter area)
U 1.0 K (1 m² filter area)

Underpressure filters for supplying machine groups up to U 28 (28 m² filter area)
Example: Compact underpressure filter U 0.5 K supplying a grinding machine
U-0.5 K (Compact Filter):
Filter area: 0.5 m²
Flow rate: 120 l/min
Medium: Oil/water emulsion
Material: Steel
Application: Grinding
Design: Compact underpressure filter for supplying a grinding machine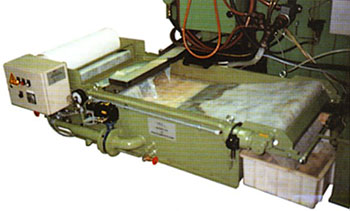 U-0.5 K (Compact Filter):
| | |
| --- | --- |
| Filterfläche: | 0,5 m² |
| Volumenstrom: | 120 l/min |
| Medium: | Ö/W-Emulsion |
| Material: | Steel |
| Bearbeitung: | Grinding |
| Ausführung: | Compact underpressure filter for supplying a grinding machine |
Filter types based on filtration fineness and specific filter performance: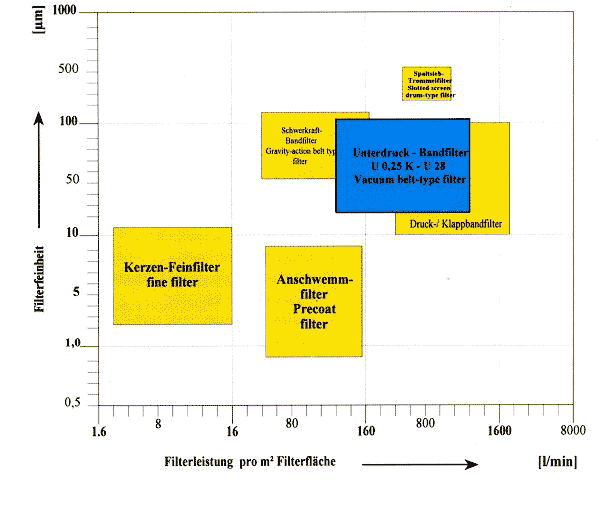 Each filter system is specifically designed and customized for the specific application. We utilize our experience, in-house laboratory tests, as well as portable pilot plants for on-site testing at your company.